Djinni's Merchants
Duration:
April 7th to April 11th (Server Time)
Servers:
For servers that have been open for at least a week.
Description:
Buy items with Darics from the Djinni's Merchants at a discounted price; up to
90% off
!
- Darics can be obtained from Today's Gift, Explore Gem Enhancement, Omnipotence, All-Round Talent, Total Recharge Reward, or by exchanging Diamonds/Vouchers at a 1:1 rate.
Cerebus Shard, Nian Shard, Iron Cockatrice Shard, Banner Wings Shard,
Enchanted Ore, Blessed Stone, Soulstone, Seraph's Stone, Gem Enhancement Stone, Element Crystal, Aegis Shard, Refining Stone, Runestone, Lvl. 3 Cherubstone, Lvl. 3 Holy Crystal, Lvl. 4 Cherubstone, Lvl. 4 Holy Crystal, Lvl. 5 Superior Gem Chest, Lvl. 5 Common Gem Chest, Angel Tears, Gold, and many more.
- Remaining Darics can be used in future events.
Wheel of Luck
Duration: April 6th to April 8th
(Server Time)
Servers: Servers that have been open for at least a week.

Description: Spin the Wheel of Luck to win

Elvish Spring, Snow Wings, Lvl. 7/6/5 EXP Totem Chest, and Lvl. 25/24/23 Hero Mark

!


Use Jackpot Lotto Vouchers to spin. You can get Jackpot Lotto Vouchers through Hot Events or by purchasing with Diamonds.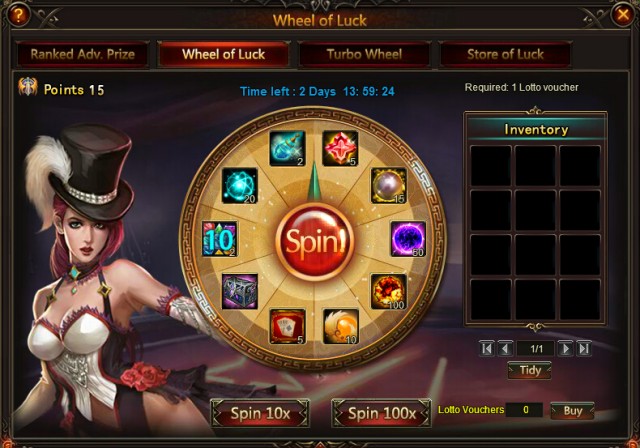 - In the Turbo Wheel, VIP players can spin for better rewards.

- Points can be used to make purchases in the Shop of Luck.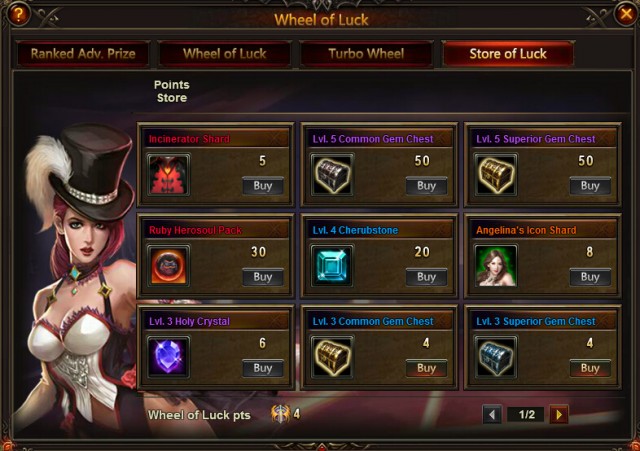 - The daily Top 10 players with at least 30 points will get extra Element Crystals, and the daily Top 10 players who have at least 120 points will get extra Dragonsoul EXP Packs.
| | | |
| --- | --- | --- |
| Place | 30 Points | 120 Points |
| 1st | Element Crystal x200 | Dragonsoul EXP Pack (500) x10 |
| 2nd-3rd | Element Crystal x150 | Dragonsoul EXP Pack (300) x10 |
| 4th-10th | Element Crystal x100 | Dragonsoul EXP Pack (100) x10 |
- At the end of the event, the Top 10 players who have at least 200 total points or 800 points will get extra rewards as follows:
| | | |
| --- | --- | --- |
| Place | 200 Points | 800 Points |
| 1st | Seraph's Stone x300 | Elvish Spring x1, Lvl.7 Exp Totem Chest x1,and Lvl. 25 Hero Mark x1 |
| 2nd-3rd | Seraph's Stone x200 | Snow Wings x1, Lvl. 6 Exp Totem Chest x1, and Lvl. 24 Hero Mark x1 |
| 4th-10th | Seraph's Stone x100 | Snow Wings x1, Lvl. 5 Exp Totem Chest x1, and Lvl. 23 Hero Mark x1 |
R2Games LoA Ops Team
Official Site:
http://loa.r2games.com/
Forum:
http://forum.r2games.com/
Facebook:
https://www.facebook.com/LeagueOfAngels.R2
Twitter:
https://twitter.com/LoA_R2