Happy late Mother's Day! Although May 10th is over, our affection and gratitude towards our mothers cannot be limited to a single day... and it's never to late to celebrate!



This is the Mother's Day event icon, click it to begin celebrating!


Mother's Day Event
Duration: May 12th to May 18th
Servers: Servers that have been launched for at least a week.
Description: Click the Mother's Day icon to see the four event parts: Angel Spirit, World Boss, Angel Chest, and Angel Shop.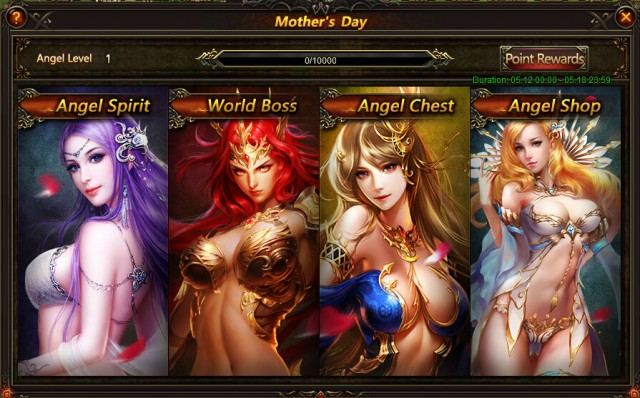 Angel Spirit

Fight together and get great rewards here! Click Angel Spirit to see this panel. When Angel Spirit EXP reaches a certain amount, all players in the server can collect rewards.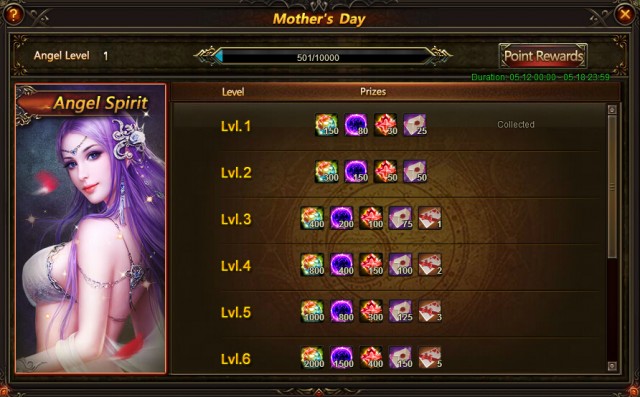 At the same time, you can click Point Rewards Button to check your personal point rewards.

Rules:
1. Every Gratitude Card acquired will earn a player 1 personal point and increase the Angel Spirit's EXP by 1. Every Fine Gratitude Card acquired will earn a player 2 personal points and increase the spirit's EXP by 2.
2. All Angel Spirit level rewards can be collected once daily when available.
3. Join the World Boss during the event for a chance to receive Gratitude Cards. The top 50 in World Boss ranking have a chance to receive Gratitude Cards and Fine Gratitude Cards!

Can you and partners in your server reach the top level during the 7-day party?!


Angel Chest

Resources, Teasure Hunt Chests and Gratitude Cards are waiting for you in Gift Boxes! You can randomly get one of the following items by donating Carnations.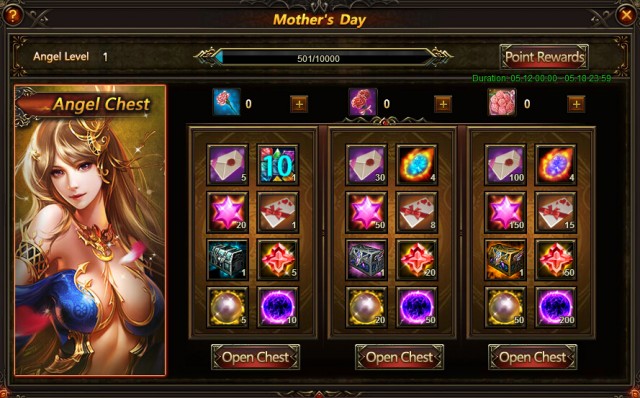 There are 3 kinds of gift boxes. You have to donate Carnations to open them. You can get Carnations, Twin Carnations, and Carnation Bouquets through Hot Events or use Diamonds to buy them.


Angel Shop

Gratitude Cards can be used to exchange for items in the Angel Shop!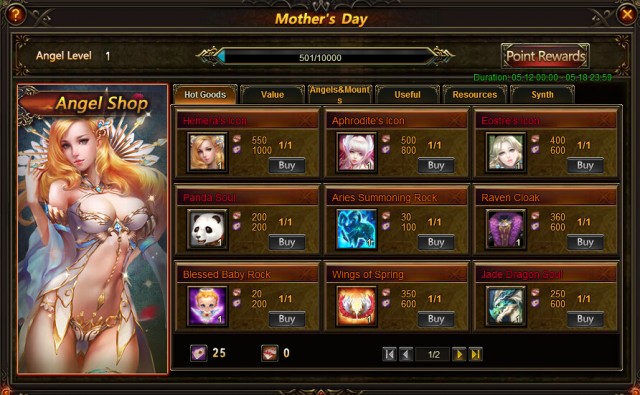 Here you can get various rarities such as Panda, Jade Dragon, Pheonix, Angel Hemera, Aphrodite, Eostre, Elena, Fairies like Blessed Baby, Aries,
costume like
Elvish Spring
, Raven Cloak, Wings of Spring and many other items!
R2Games LoA Ops Team
Official Site:
http://loa.r2games.com/
Forum:
http://forum.r2games.com/forumdispla...ague-of-Angels
Facebook:
https://www.facebook.com/LeagueOfAngels.R2
Twitter:
https://twitter.com/LoA_R2