Starry Dream
On cool, clear starry nights many of us have cast our wishes upon the stars. Little do we know the Angels are watching and hoping that our dreams might come true too. Now, some of those dreams can become a reality with the Angel's new event: Starry Dream!

Duration: June 5th to June 8th (server time)
Servers: Servers that have been open for at least a month
Description: Choose a reward and spin the Starry Dream wheel. Rewards will be granted when all 7 stars are lit.
Starry Dream consists of three parts: Fantasy Star, Reward List, and Point Rankings.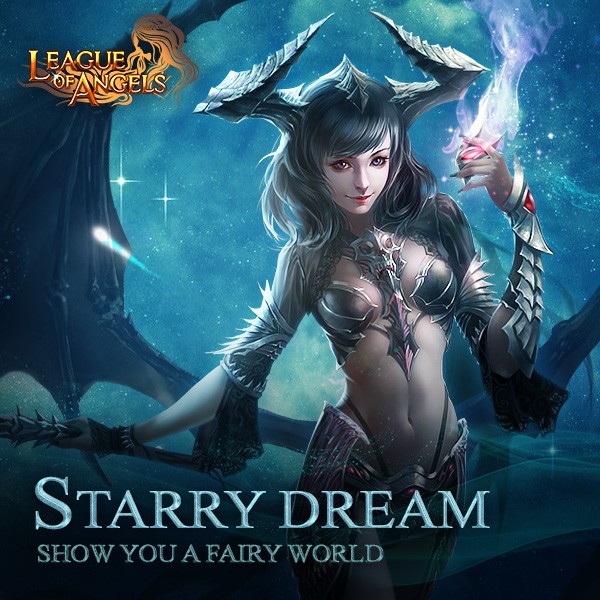 Fantasy Star
It's up to you to choose what rewards you would like to get! In this tab you can see five different rewards on the left. These rewards are of different levels. The higher the level is, the better the reward is. There is a wheel to the right. Players must consume Lucky Points to spin the wheel and earn stars. Please note that higher level rewards require more Lucky Points.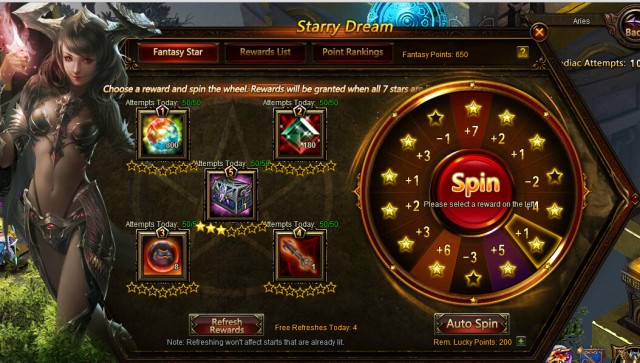 Every day players will get 10 free Lucky Points and players may also use Vouchers to buy up to 20 more Lucky Points.
Reward List
Reward list is a guide to help you know what rewards are available at each level. Click the refresh rewards button in the Fantasy Stars panel to change the rewards. Every player has 5 free attempts to refresh rewards. After using up all the free attempts, you can consume Vouchers to get extra refresh attempts. Refreshing won't affect stars that are already lit.

This time Starry Dream brings you powerful Angel's Artifacts like
Heaven's Melody, Royal's Mark, Lilac Stone, Dragonsoul EXP Pack (100), Ungodly Soul, Varda's Blade, Energy Vitamin
and many other items.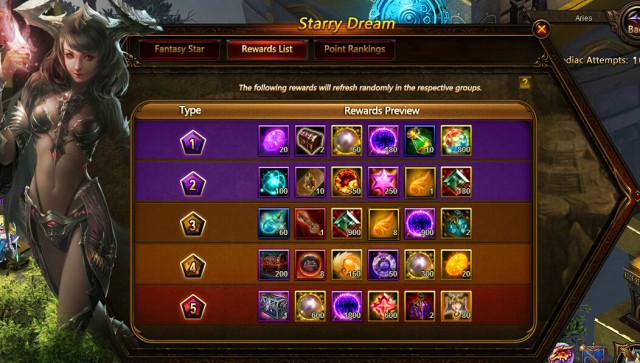 Point Ranking
There will also be rankings: Yesterday's Ranking, Today's Ranking, and Overall Ranking. In each ranking, there are basic prizes and Adv. prizes.
Daily Ranking
| | | |
| --- | --- | --- |
| Ranking | Basic Prizes (30 points) | Adv. Prizes (300 points) |
| 1 | Soulstone x500 | Blessed Stone x300 |
| 2~3 | Soulstone x400 | Blessed Stone x200 |
| 4~5 | Soulstone x300 | Blessed Stone x150 |
| 6~10 | Soulstone x200 | Blessed Stone x100 |
| 11~20 | Soulstone x100 | Blessed Stone x50 |
Overall Ranking
Ranking

Basic Prizes (130 points)

Adv. Prizes (2,000 Points)

1

Seraph's Stone x500

Blessed Stone x1,000,

Divine Totem (Ruby) x1, and Lvl. 11 Crit Gem x1

2~3

Seraph's Stone x350

Lvl. 8 Cherubstone x1,

Lvl. 6 EXP Totem Chest x1, and Lvl. 10 Crit Gem x2

4~5

Seraph's Stone x250

Lvl. 8 Cherubstone x1,

Lvl. 5 EXP Totem Chest x1, and Lvl. 10 Crit Gem x1

6~10

Seraph's Stone x150
More exciting events are coming June 5th through June 8th (server time), check them out in the in-game Hot Events menu now!


R2Games LoA Ops Team
Official Site:
http://loa.r2games.com/
Forum:
http://forum.r2games.com/forumdispla...ague-of-Angels
Facebook:
https://www.facebook.com/LeagueOfAngels.R2
Twitter:
https://twitter.com/LoA_R2