Hi Guyz, Most ppl say archers need cash to be the best after lvl 45.But, nope its not fully true. This guide i hope will help the beginners to a good archers. Now, lets start....
Class Overview
Archer are pure glass cannon crits and they mostly lead in the world boss because of this. We lack a bit in Catatombs because we have just 1 AoE attak (i.e. Lunatic fire and later a delephic death star(100 rage) So we have to keep up with the other player by increasing PAtk ,Crit and Defences.
Skill Set Up
This is till lvl 40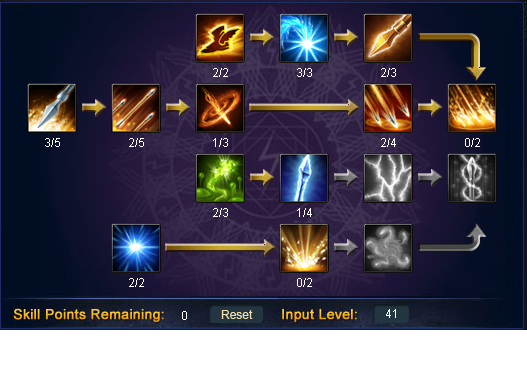 ArrowStrike - The solid basic and an rage building attack, crit rate is also increased by 20% so it important for pvp, Catatombs and World boss.
Acumen - Gives 3 (lvl 1 and lvl 2 5) rage points after a crit so if u use multi shot u get 6 and 10 rage points
Multi Shot- It is a partial AoE attack yet not an AoE . It can be used in Catatombs , World boss and pvp.
Poison Arrow - It can reduce Hp by 44% of Patk . Can be used in World boss.
Delphic Sniper - Most ppl think is cool cause the character becomes so big n stuff is a big rage consumer and
so is hardly used so keep it at lvl 1. Can be used in World boss.
Eagle Eye - Increases Crit and Hp upto 15% so max it out.
Deep Freeze The 2 nd most powerful attack and it reduces speed and almost allows u to gain a turn and hit the guy at the back where mostly the powerfull ppl are. It can be used in World boss,Catatombs,Pvp.
BloodThirsty strike -The only move that allows u to gain HP i recommened it highly on BGs (saved me a lot of times)
Lunatic Fire - The only AoE and it has a high chance of crit hits maked it the most important at Catatombs ,
Pvp, BG.
Gems
Important
Patk, Crit,Charisma
Optional
PDef,HP,MDef
Geming archers is a bit easy and dont use more Crit and make Patk and Crit equal.
Gearing
Complex and confusing part I would say Participate in GBs and GAs and get the private medallion before u go to lvl 40 cause it will be easy to get champion medallion.That way u can get armor from arena.The thing i notice in most ppl is in Crypt shop even if u pair some rings or jewels ull get a negtive buff so dont pair buy the same thing again!!
Astrals
PDef ,MDef and PAtk.till lvl 40
Skill Shop
Get Defence to lvl 2, Power to lvl1 and Endurance to lvl1
I hope this helped u guyz to become a better archer an Best of luck Enjoy the non cash way and look out for events cause u might get gears for free