Ok I think the the leaders in the guild should be able to mute certain players in the guild from communicating in the guild chat. Here's my reason. Check the image I attached to this thread. Um this person is begging to be kicked. Being rude to everyone and spamming our guild chat. They want to clan hop that obvious cause they can join instantly from getting kicked from guild. So I think that something should be done.
So like I said that the guild leaders should be able to mute players from guild chat instead of listening to something like that.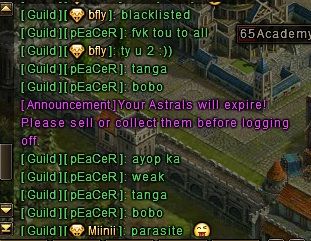 Anyways please let me know what you think of this idea. Thanks.